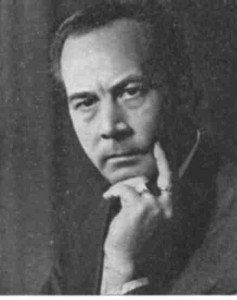 The Dutch baritone, Leo Ketelaars, the son of an artistically and musically gifted father, was born in Maasniel / Roermond. The family moved to Vaals 1922, when his father took a professional job. Leo began playing the violin at the age of 12. He received lessons from the violinist and composer Jules Dreissen. Knittel, one of the choir conductors, taught him the piano and the harmony. Leo financed his studies at the conservatory in Aachen with office work. He studied with Professor Morten Svendsen and his wife, Valentine Rostin. 
Morten Svendsen (1878-1959) was the conductor of the Aachen Philharmonic Orchestra from of the 1932 to 1939; he was married to the soprano Valentine Rostin (1886-1944); both were also singing teachers and worked on the program founded in 1930 by Paul Schnitzler Conservatory.
In the late 1930's Leo Ketelaars played as a violinist in the orchestra of Aachen City Theatre conducted by Herbert von Karajan.Herbert von Karajan, who was then general music director in Aachen, heard him singing and accompanied him. He found his voice so interesting that the future of Leo Ketelaars in music was more vocal than in instrumental. In 1937 Leo Ketelaars gave his first concert on the radio, but was not still a professional singer; he finished his studies in 1938 with honours. But he wants to make music even further, so he went to Aachen now to the study the organ and choral conducting. He completed his studies during World War II.
Leo Ketelaars came in contact with the then-known singer and singing teacher Suze Luger, who taught at the Conservatory of Maastricht. 1949, after about three years of studying singing and several major appearances, he participated in the international vocal competition the "Union Bel Canto" in the Hague. The 16-year-old Willy Prick accompanied him on the piano. A total of 165 candidates participated in the competition, of the 12 finalists, he was the last of the series on 24 Clock (midnight). Leo announced his belt as the last candidate that the aria Es ist genug by Felix Mendelssohn would be sung. The auditorium burst into laughter and Leo Ketelaars won the competition! Result: first prize and gold medal.
After that winning Leo Ketelaars was in demand everywhere. It was followed by many radio concerts. When he sang the role of Papageno in Die Zauberflöte under conductor Paul van Kempen, he said: "Your Papageno is Salzburg" and wanted to say, "this is European model."
Leo Ketelaars worked for 25 years with great conductors, with major orchestras, with great soloists, but had to finish his career early after a heart attack. As a singing teacher at the conservatories of Tilburg and Maastricht, he set himself the task to pass on his knowledge and his rich experience to a new generation and documented it in his book de menselijke stem documented.
Leo Ketelaars sang in the Dutch premiere of the opera de nachtwacht by Henk Badings (February 17, 1953 – Fiori Fl-1027). Other recordings include: Capriccio by Richard Strauss (as Olivier) with soprano Lisa della Casa (May 5, 1953 – Ponto PO-1013); Messa da Requiem by Lorenzo Perosi with tenor Tom Brand (1994, Sony Music 17-044863-10); La Clemenza di Titowith Eugen Jochum and contralto Nan Merriman (Publio – March 21, 1963 – Bella Voce BLV 107.006).
His career as a singer and teacher – and that includes the musical direction of the group Vaals' operetta group "'t Zingende Zuid" in the years 1945 to 1957 – was crowned on May 1, 1977 with the awarding of the Royal Order of "Ridder in de Orde van Oranje Nassau" as an appreciation for his idealistic pursuit. He spent his twilight years, marked by illness, but still as a counsellor for his "apprentices" active working as a writer and music reviewer, in the circle of his family, his wife, his daughter, his son and his two grandchildren in Vaals. He died on 26 January 1992 after a fulfilling life.